Larry Bogad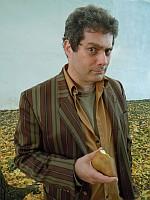 Lawrence Bogad is an author, performer and the founding director of the Center for Policital Activism/West Coast.He writes, performs and strategizes with mischievous artists such as the Yes Men, Billionaires for Bush and La Pocha Nostra.He is a veteran of the Lincoln Center Theatre Director's Laboratory, and a co-founder of the Clandestine Insurgent Rebel Clown Army.His produced plays have covered topics such as the Haymarket Square Riot, the FBI's COINTELPRO activities, the Pinochet coup in Chile and global climate chaos.His play, COINTELSHOW: A Patriot Act was recently published by PM Press.
Professor Bogad's book, Electoral Guerrilla Theatre: Radical Ridicule and Social Movements, analyzes the international campaigns of performance artists who run for public office as a radical prank. That book, and his many articles on political performance, are used in college classes internationally. His next book, Tactical Performance: On the Theory and Practice of Serious Play, analyzes and critiques the use of guerrilla theatre/art for human and civil rights, and for social justice, labor and environmental campaigns.
Professor Bogad  has led Tactical Performance workshops, helping activists create performative, nonviolent images to contest and critique power, in Cairo, Reykyavik, Buenos Aires, in New York for the College of Tactical Culture, for the Center for Victims of Torture, as the Humanities and Political Conflict Fellow at Arizona State University and at Carnegie Mellon University both as an Art and Controversy Fellow, and as a Distinguished Lecturer on Performance and Politics. The British Academy and British Arts and Humanities Research Council funded his documentary, "Radical Ridicule: Serious Play and the Republican National Convention." He has been a commentator on political performance on Air America, NPR, Pacifica, Peace Radio, and other radio stations and programs.