Oct. 7th, Representation Matters – Adrienne Shaw
ADRIENNE SHAW
Representation Matters: Reframing arguments for diversity in digital games
Wednesday, October 7th | 4:00 – 6:00 PM | 126 Voorhies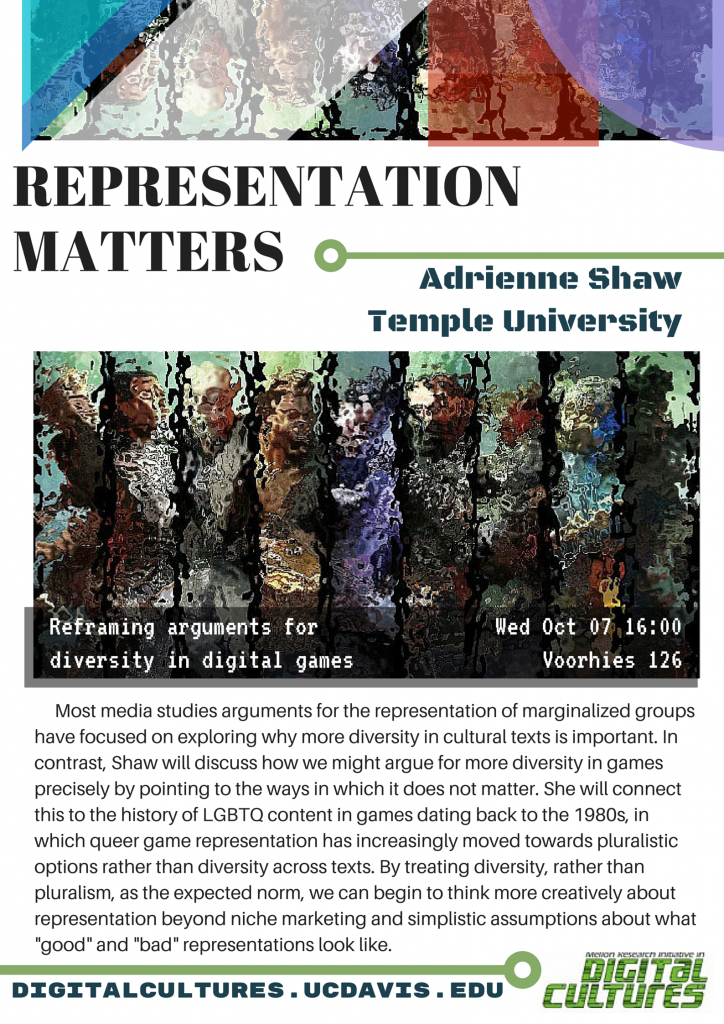 Most media studies arguments for the representation of marginalized groups have focused on exploring why more diversity in cultural texts is important. These range from claims of direct media effects to analyzing how trends in representation reinforce hegemonic norms. Adrienne Shaw will demonstrate that this framing of representation discussions actually reinforces the lack of diversity as a norm. That is to say, we only see diversity as being possible when a strong "good business sense" or strong media effects case can be made. In contrast, drawing on her audience research, Shaw will discuss how we might argue for more diversity in games precisely by pointing to the ways in which it does not matter. She will connect this to her recent research on the history of LGBTQ content in games dating back to the 1980s, and how queer game representation has increasingly moved towards pluralistic options rather than diversity across texts. By treating diversity, rather than pluralism, as the expected norm, we can begin to think more creatively about representation beyond niche marketing and simplistic assumptions about what "good" and "bad" representations look like.
Adrienne Shaw
is an assistant professor in the Department of Media Studies and Production at Temple University and a Media and Communications PhD program faculty member. Her primary areas of interest are video games, gaming culture, the video game industry, gender and sexuality, the politics of representation, and qualitative audience research. Her research has been published in
Games and Culture
,
New Media Studies
,
Ada
,
Critical Studies in Media and Communication
,
QED: A journal of queer worldmaking
, among other journals and she is the author of several book chapters on game studies. Her book
Gaming at the Edge: Sexuality and Gender at the Margins of Gamer Culture
(University of Minnesota Press) was released January 1, 2015.